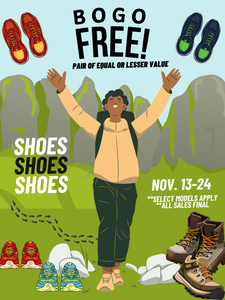 Step into Adventure with the Uloha BOGO SHOE SALE!
Calling all outdoor enthusiasts and nature lovers! We have just announced a spectacular Buy One, Get One (BOGO) Shoe Sale that is guaranteed to elevate your hiking experience. Whether you're a seasoned trailblazer or a novice explorer, this is the perfect opportunity to step into comfort and style without breaking the bank.
Explore the Great Outdoors in Style: We are renowned for our commitment to quality and functionality. With our BOGO Shoe Sale, you can now explore the great outdoors in style. From rugged terrains to serene trails, Uloha's diverse collection of hiking shoes ensures you not only conquer the path but look good doing it.

Unmatched Comfort for Your Journey: Hiking is all about the journey, and Uloha understands the importance of comfort along the way. Each pair of hiking shoes is designed with advanced technology to provide unparalleled support, cushioning, and stability.

Choose Your Adventure: Uloha caters to a wide range of outdoor activities. Whether you prefer a leisurely stroll, a challenging hike, or an overnight camping trip, their BOGO Shoe Sale includes options for every adventure. Choose from waterproof boots, lightweight trail shoes, or versatile hiking sneakers – all designed to meet the demands of your chosen terrain.

Eco-Friendly Footwear: We are not just about providing high-performance footwear; we are also committed to sustainability. Many of our hiking shoes are made from eco-friendly materials, ensuring that you can enjoy nature responsibly. 

Gear up for Every Season: Whether you're planning a spring hike, a summer camping trip, or a fall foliage adventure, Uloha has you covered. The BOGO Shoe Sale includes a variety of options suitable for different seasons, so you can gear up for your favorite time of the year.

Expert Advice and Fitting: Uloha takes pride in its knowledgeable staff. Visit Uloha during the BOGO Shoe Sale, and you'll receive expert advice on choosing the right footwear for your specific needs. We will even help you find the perfect fit, ensuring that your hiking shoes become an extension of your feet.
Don't miss out on this golden opportunity to upgrade your hiking gear with Uloha's BOGO Shoe Sale. Whether you're a solo adventurer or planning a family hiking expedition, Uloha has something for everyone. Step into the wild with confidence, comfort, and style – all thanks to Uloha's commitment to quality outdoor footwear. Happy hiking! 
---